One Delightful Thing
There has to be-
The dinner – no, I forgot the mac & cheese
The soccer game – no, there were tears when time came to leave
The ice cream party – that was it! No, bowl of fun fell face-down on the floor.
And a little boy beside himself crumpled and forlorn.
There has to be
There has to be
One delightful thing today.
Now they're abed
It's time for bed
Perhaps I'll find my delight in there.
But delightful things have dared not ever haunt my dreams.
Perhaps it is as simple as
This sugar waffle-bowled
With Tin-roofed-sundae-scoops,
Caressed with a cool spray of sweet whip
Textured with chocolate jimmies (never sprinkles!)
And capped with a single perfect decadent red treat on top.
Perhaps it is as simple
If only it could be as simple to find
and build my delightful things
I would eat sundaes everyday, for every meal, and share them all with all and all I could.
(c) Julie Bartha-Vasquez
Notes on the Poem: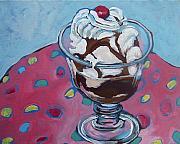 Mmmm... Ice Cream
"Day Two Sundae "
by artist Tilly Strauss
I do try to look at the good things. though it can be hard to see them. This is most definitely a very rough draft. The line breaks and line lengths merely represent the rhythm as I initially heard the words in my head and no more. It needs work. It is "free verse" with no rhyme or form. But if/when I go back to rewrite, I will likely try to hammer it into some kind of form, but not use a rhyme scheme. -WNG